Introduction
The guide below provides instructions to help you get the most out of the Ecologic energy assessment and retrofit platform. The first three sections 'Audit your property', 'Assess your options' and 'Act on your plan' provide instructions for the core functionality for all users. The Professional Features section provides guidance for how to use features specific to energy service professionals, and the Partner Features section provides more detailed instructions on configuring the platform for utilities, cities and other channel partners.
Describing your property
The following instructions detail how to input the information required to perform an energy audit.
Answering audit questions

The Audit Process comprises a series of Questions, with a form control provided depending on the type of data being provided.

Some common form controls include:

Option Buttons, which allows a single selection to be defined from a set of choices, for instance, what type of building you have
Checkboxes, which allow multiple selections to be defined from a set of choices, for instance, what sorts of insulation you have installed
Ranges, which allow a number to be defined between two range extents by dragging a handle,
Spinners, which allow a number to be defined arbitrarily, either by clicking in the text field and typing or by clicking the plus or minus buttons either side of the field,

There are also several special controls that are unique to the Ecologic software:

the Building Control, which allows the building geometry, zoning, and shading to be specified on an aerial photograph (see 'Describing your building')
the Multiset Control, which allows large numbers of similar appliances to be defined, for instance, collections of televisions or fridges (see below)

Questions are grouped into Sections, with each Section representing a particular building feature, fixture or appliance. Sections are turn grouped into Steps, which represent collections of similar Sections such as those sections on utilities, the building occupants, electronic appliances etc.

Adding more detail

Instead of overwhelming you with questions, we've gone with a more layered approach. Questions are grouped by priority, with critical questions such as the type of heating system shown prominently, and more detailed questions shown in optional slide-out forms. If you'd like to add more detail about a property feature by, for instance, adjusting the thermostat setting of your heating system, simply click 'more detail' and the additional questions slide out from below the top-level question.

How defaults work

If you don't want to answer a question that's no problem. We fill any unanswered questions with smart defaults.

The defaulting logic varies from question to question and is detailed in the Engineering Reference Documentation however the following provides some simple examples:

if the building or appliance is old, it is likely to have poorer performance
if a building is occupied throughout the day, they are more likely to use appliances, lighting and HVAC equipment during the day
if a building is large, then they are likely to have more appliances and lighting fixtures

Many defaults are location-specific, such as the local electricity tariff structure and rates, or the most common heating or cooling system.

The default is typically shown in the audit interface as a pre-selected question.

Getting more information

If you're unsure how to answer a question or if you'd like to learn a bit more about a particular question, click the small 'i' button next to the question. This will launch a panel on the right of the app which will explain why the question is important, and provide further detail on each of the question options.

Describing your building

The audit requests a range of details about your building to assess how it is likely to perform throughout the year and how much energy your heating and cooling systems are likely to use. This includes:

the building type
the building age
the wall details (wall type, eave depth etc)
the window details (glazing type, frame type, coverings etc)
foundation details
roof details

In addition, the audit includes a widget to describe the specific geometry and features of the building. To specify the building geometry:

Firstly, you will need to specify the exterior boundary of the building (or the boundary of the dwelling or premise if a multi-tenant building). To do this click on one of the corners of the building and then continue in a circuit around each of the corners of the building and then click 'done'.
If you wish to divide the building into zones (for instance, if the building has heaters and/or coolers serving different parts of the building), click 'add zones', then 'add zone divider' and then click on the wall you wish to divide, then click any internal zone corners and finish the divider by clicking on another existing wall (internal or external).
Once you have finished creating walls and zones, you can edit walls by clicking on a wall or edit zones by clicking anywhere within the zone. This will show a pop up box with the relevant details of that wall or zone.

Generally your answers to the wall questions above will be applied as defaults to all walls you have specified in the wall widget, however if you wish to specify an exception for a specific wall or walls, you need to edit that wall. Simply click on an existing wall to edit, which will show a dialogue box, with a set of questions for that wall (e.g. wall type, window area, external boundary condition, eave depth etc).
Assessing your options
Once the simulation have been completed you will be sent a list of charts to help you analyse your energy use and help you develop a tailored energy plan.
The first page provides a sense of how the property performs, including a comparison of the energy consumption with typical and efficient properties, and a breakdown of which appliances consume the most energy and money to run.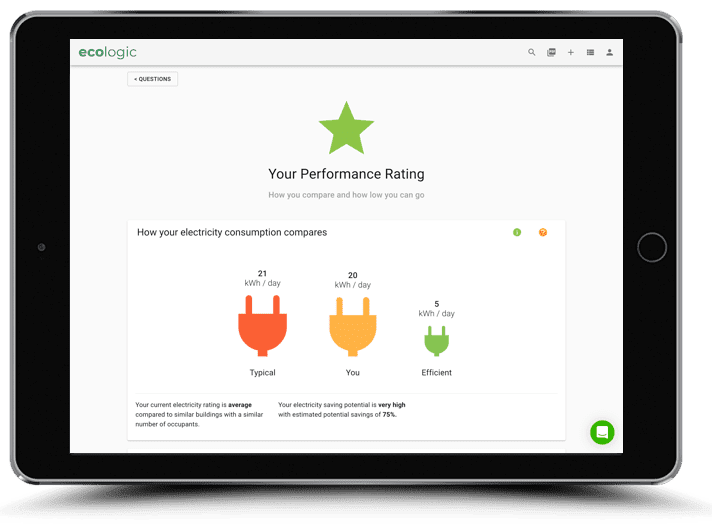 The second page provides information to help you identify your preferred actions to reduce your bills. This includes the estimated cost of each action, together with the bill savings you're likely to achieve, taking into consideration your unique situation.
You can add or remove actions from your plan by clicking on the checkboxes. Once you're happy with your selection click 'create plan' to pledge your actions and create your plan.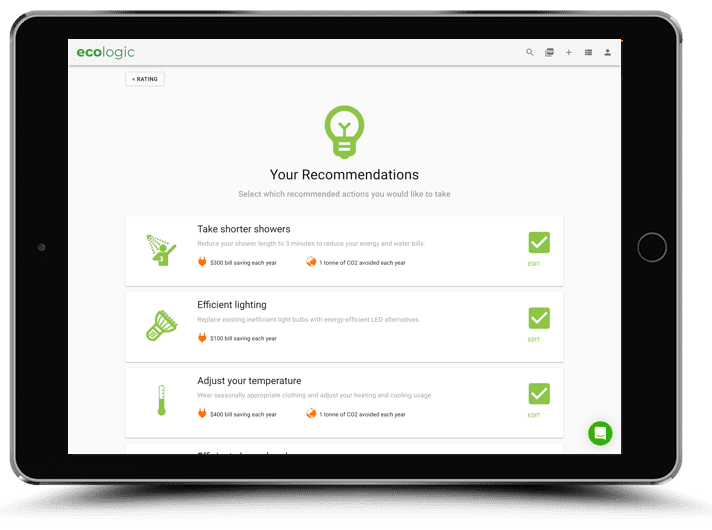 Acting on your plan
We have provided a range of services to help you implement your tailored energy action plan.
In the planner you are presented with a card for each of the actions you nominated earlier.
For tailored advice and product offers click the relevant action.
To request a specific offer, click 'Get Quote' and fill out the form provided. This will forward your contact details and product specifications to your preferred product or service provider.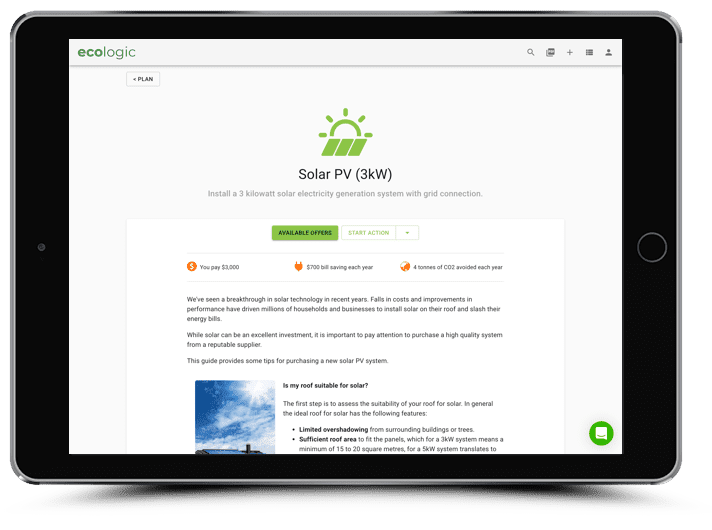 Professional features
This section provides instructions on how to perform several features that are unique to Ecologic Pro and Ecologic Partner
Partner features
This section provides instructions on how to perform several features that are unique to Ecologic Partner
Managing your gateway

Your Ecologic Partner subscription includes a Gateway or white-labelled instance of the Ecologic Platform for your networks to self assess their properties.

Your Gateway includes the ability to provide the following customisations:

a custom logo for the app and reports
a vanity URL (e.g. yourcompanyname.ecologicapp.com)
custom branding for the app and reports including background color, feature colour, header image etc
custom copy to be included in PDF reports
configurable CRM integrations for project requests, using a webhook interface

To edit your gateway:

Firstly ensure you are logged into your team account and that your user has Admin privileges (see the section above to edit user privileges)
click 'Account' in the top right and then click your Team name
edit the relevant content using the form provided

Managing suppliers

Ecologic Partner provides support to manage a team of suppliers that are unique to your campaign.

To specify a set of suppliers within Ecologic you will need several key details:

Supplier name
Supplier logo
Either an email address or a webhook address for receiving automated quote requests

For each specific offer you will need to provide:

Product / service name
Feature image and up to 3 other product images (ideally large and high resolution)
Product summary (short paragraph hook shown 'above the fold' describing product / service)
Product description (~3 paragraphs detailed description of product / service)
Price or (ideally) pricing business rules e.g. if ceiling insulation, $ / m2 ceiling area plus $ fixed fee, if solar, $ for different capacities, adjustments for multi storey, roof materials etc

Email campaigns

Ecologic Partner provides several features to support effective email marketing campaigns.

For campaign tracking purposes, Ecologic allows recruited participants to be tracked against a unique email campaign ID.

To streamline the experience for recruited participants, Ecologic provides support for key user details, such as name and email address to be included in a 'magic link'. Essentially, the user's details are embedded in an encrypted key, which is included in the email hyperlink. When the user clicks this link, their details will be forwarded to our database and an account automatically generated for them. To enable this feature you will need to obtain an encryption key from Ecologic Apps and we will assist you with creating the 'magic links'.