Ecologic Home is a web and mobile app that helps you assess and install building improvements, smart appliances, solar and batteries.
You begin by logging into the app and answering a targeted set of questions about your building and appliances. Typical questions include how your building is heated and cooled, what sort of water heater is installed and how many fridges you're running.
Instead of overwhelming you with questions, we've gone with a more layered approach. Questions are grouped by priority, with critical questions such as the type of heating system shown prominently, and more detailed questions shown in optional slide-out cards. If you'd like to add more detail about a property feature by, for instance, adjusting the temperature setting of your heating system, you simply click 'more detail' and the additional questions slide out from below the top-level question.
If you don't want to answer a question that's no problem. We fill any unanswered questions with smart defaults based on your location and prior responses.
Using this system we offer you the flexibility to provide as much or as little detail as you wish - whether it be a quick 2 minute estimate or a comprehensive 30-minute professional-grade audit - while still providing the best possible accuracy.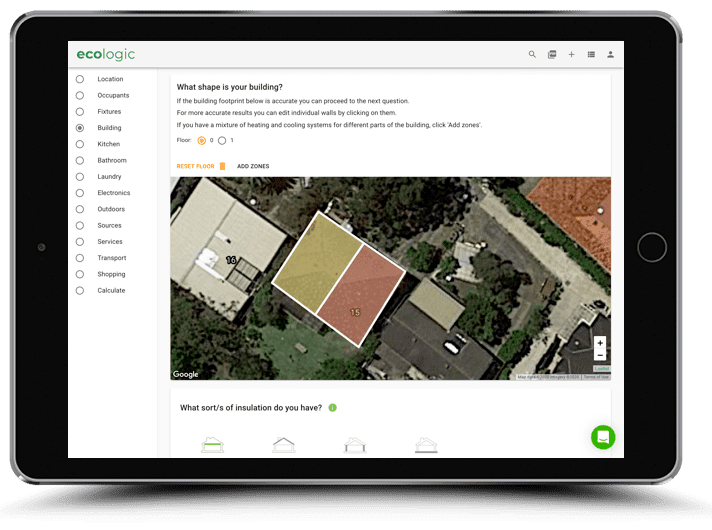 You are then ready to upload your responses to our cloud-based simulation platform.
Here we turn the building features you described earlier into a 3D model of your building. We then use this model to simulate how your building performs throughout the year subject to your local weather. This allows us to estimate when your heating and cooling systems are active, how much electricity can be generated by solar PV systems, and even when the lights are likely to be switched on.
We then re-run the same simulation but this time with a set of changes. For instance, we might add a solar hot water system to your roof, or better insulate your ceiling, or replace your fridge with a more efficient model - in each case estimating the cost, the bill saving, and the likely payback period from those changes.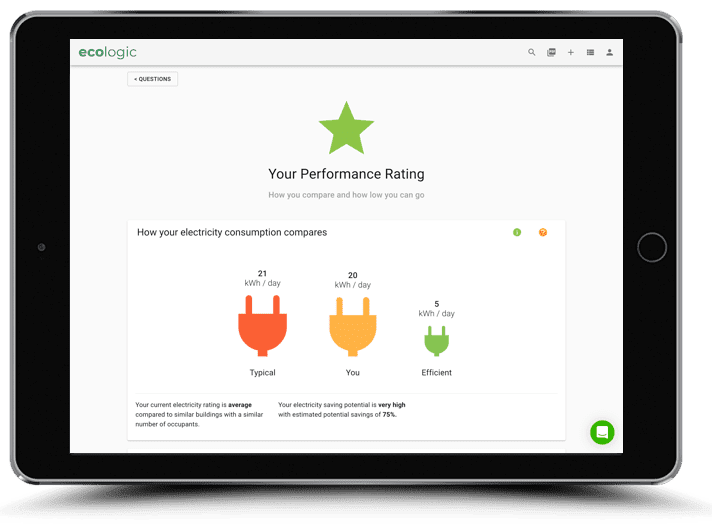 Your results are returned as a set of colourful infographics describing how energy is currently used around your property, including which specific appliances are costing the most energy and money to run and how your bills compare with similar properties.
We also present you with a series of energy saving measures including building improvements, efficient appliances, and solar PV - all prioritised in order of their payback period. This includes an estimate of the cost of each measure together with the annual savings you should expect to receive on your energy bill.
Once you've reviewed the results you can nominate which measures you'd like to carry through to your personalised energy plan.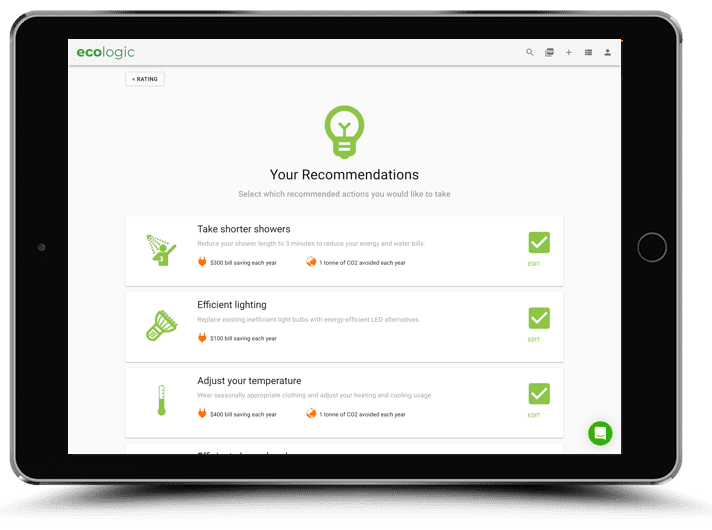 We then assist you with making your energy plan happen. For instance, if you'd like to install a solar PV system, we will advise you which size and configuration is likely to work best for you and provide an instant quote of the installation costs for your unique situation. Or, if you'd like to replace your fridge, we will provide a list of fridges alongside their costs, features and energy efficiencies. Or, if you'd like to switch your electricity plan, we will estimate your bills subject to the full range of available tariffs and calculate which plan represents the best value for your unique consumption profile.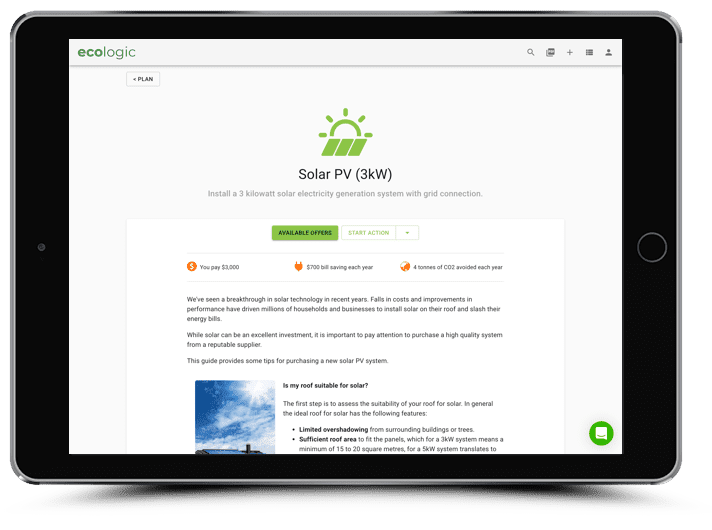 With your go ahead, we'll forward all the necessary details to our network of product and service providers so they can promptly fulfill your request with minimal hassle. For instance, instead of you having to call up your preferred solar installer and repeat your roof height, material and solar specifications, we will forward all the necessary details to them for you so they can dispatch an installer to your property.
It's that easy! The tool is available for free* and available at this link.

* Note that we are able to offer the service for free owing to small commissions we levee our suppliers when we provide qualified customer leads. Our suppliers are independently assessed so we can guarantee that we select suppliers based on value and quality. Our suppliers also guarantee that they will provide a similar or lower prices through this platform than their general customers.