Recent drops in energy use and the rapid uptake of solar PV have led to growing concerns among energy utilities that customers will abandon the grid leading to a 'utility death spiral'. But smart utilities are increasingly viewing efficiency, solar and batteries as a business opportunity.
Ecologic have developed a web-based platform to help utilities offer their customers a comprehensive energy service, including energy efficiency, solar PV and battery storage.
How it works
the utility (or a third party) contacts customers and provides an energy audit and retrofit assessment
a personally tailored portfolio of energy saving measures is offered to the customer at no upfront cost
product and service providers are sub-contracted to install building performance improvements, energy efficient appliances, solar PV and/or batteries at the property as a cost-effective bulk procurement
the package of measures is then repaid using on-bill financing, with repayments offset by bill savings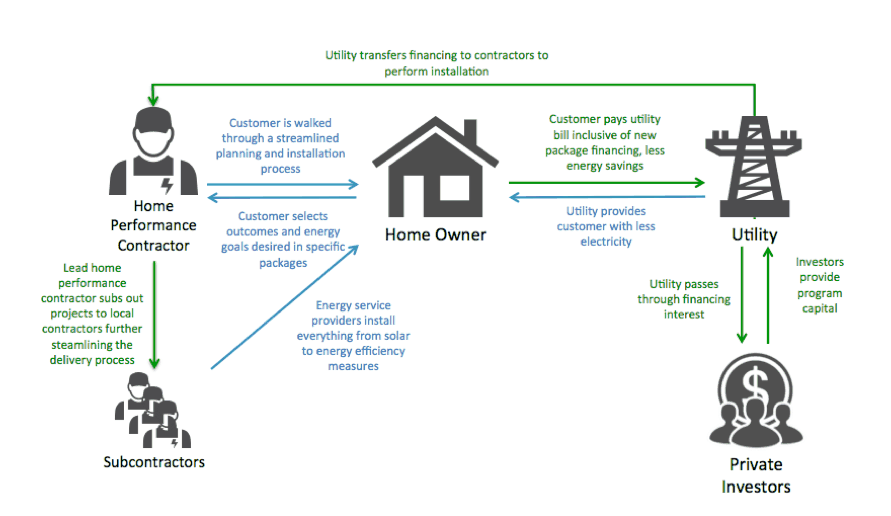 Source: Rocky Mountain Institute
As distinct from conventional energy advice / audit service models, this approach allows you to deliver affordable, scalable and measurable impacts on the ground.
Affordable: our product is offered to utilities based on an annual subscription that scales with the number of customers, with costs typically less than one tenth of the cost of conventional energy audit programs
Scalable: the Ecologic platform can offer an efficient mass-scale energy service using several key innovations including 'crowd-sourced' self auditing, viral social media sharing, 'Uber-style' peer-to-peer local contractor dispatching and bulk procurement / financing
Measurable: the Ecologic platform tracks the progress of projects arising from audits from initial commitment, through to completion and provides real-time tracking data on the energy, bill and greenhouse gas savings attributable to the campaign The end result is a win-win. Customers can install energy saving measures in their property at no upfront cost. And utilities grow and diversify their business while improving customer satisfaction.
Enabling features of the platform include:
rapidly collecting energy audit data either on the web, over the phone or face-to-face using a mobile device and storing it in a central cloud-based database
running a set of physics-based simulations of the energy consumption of the property subject to a range of building, appliance, behavioural, and tariff scenarios
identifying a portfolio of energy saving measures tailored to the unique conditions of a property
generating accurate estimates of bill savings, to ensure loan repayments are offset by bill savings
providing a web-based clearinghouse for dispatching, monitoring and evaluating product providers
Together these innovations enable tailored energy solutions to be delivered to customers at scale at an affordable cost without the need for advanced metering infrastructure.
For further detail check out our EnergyAustralia Customer Case Study
Or to arrange a product demonstration contact utilities@ecologicapp.com.