Recent drops in energy use and the rapid uptake of solar PV have led to growing concerns among energy utilities that customers will abandon the grid leading to a 'utility death spiral'. But smart utilities are increasingly viewing efficiency, solar and batteries as a business opportunity.
Ecologic have developed a software platform to help utilities offer a comprehensive energy service to their household and business customers, including energy efficiency, solar PV and battery storage.
How it works
the household or business customer provide a description of their building and appliances either online, over the phone, or in the field, all using our white-labelled web and mobile apps
a personally tailored portfolio of products and services is generated and offered to the customer at no upfront cost including advanced metering, building performance improvements, efficient and smart appliances, solar PV and/or batteries
product and service providers are sub-contracted to install the technologies at the property as a cost-effective integrated solution
the package is then repaid using on-bill financing, with repayments offset by bill savings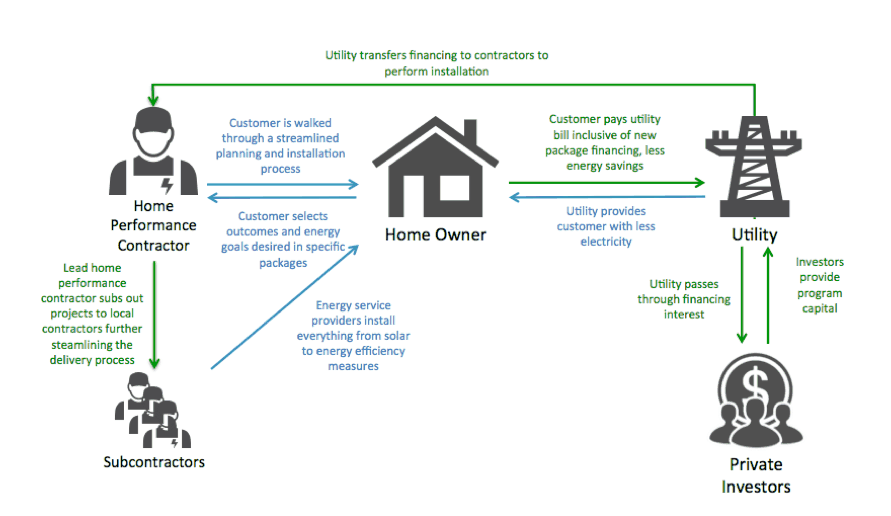 Source: Rocky Mountain Institute
Benefits
As distinct from conventional energy advice / audit service models, this approach allows you to deliver affordable, scalable and measurable impacts on the ground.
Affordable: our product is offered to utilities based on an affordable subscription that scales with the number of customers, with costs typically less than one tenth of the cost of conventional energy audit programs
Scalable: the Ecologic platform can offer an efficient mass-scale energy service using several key innovations including online self service, 'Uber-style' peer-to-peer contractor dispatching and bulk procurement / financing
Measurable: the Ecologic platform tracks the progress of projects arising from audits from initial commitment, through to completion and provides real-time tracking data on the energy, bill and greenhouse gas savings attributable to the campaign
The end result is a win-win. Customers receive a tailored and integrated energy solution at no upfront cost. And utilities grow and diversify their business while improving customer satisfaction.
Features
Enabling features of the platform include:
a user friendly interface enabling your household and business customers to rapidly describe their building and appliances, with user data augmented using smart defaults, machine vision and our unique analytics
an advanced simulation engine capable of simulating the energy consumption, utility bills and emissions of residential and commercial buildings anywhere in the world
an automatic PDF report generator, allowing a full report to be automatically generated and emailed to the customer
custom branding of the self assessment app and reports including custom logos, colours, styling and copy
a customer relationship management system, allowing your team members to upload, securely store, and review rich customer energy profiles, enabling micro-targeted, tailored customer offers
a team management system, allowing you to monitor and coordinate the activities across your team, including member access controls, team dispatch, status updates etc
a supplier coordination system, allowing you to dispatch and monitor contractors and suppliers to deliver products and services to your customers
advanced security controls including password security testing, breached password detection, brute force detection, multi-factor authentication and single sign-on support
Together these innovations enable tailored energy solutions to be delivered to customers at scale at an affordable cost without the need for advanced metering infrastructure.
Case studies
We have worked with some of the world's largest energy utilities targeting millions of customers. See our work with EnergyAustralia.
Pricing
Ecologic Utility is offered on a tiered volume-based subscription that scales with the amount of activity generated on the platform.
Next steps
To schedule a product demonstration use the link below or for further details contact partnerships@ecologicapp.com.