Ecologic Apps are excited to announce a new product, Ecologic Pro, to enable energy auditors and building performance professionals to provide rapid simulation-driven audits and retrofit assessments.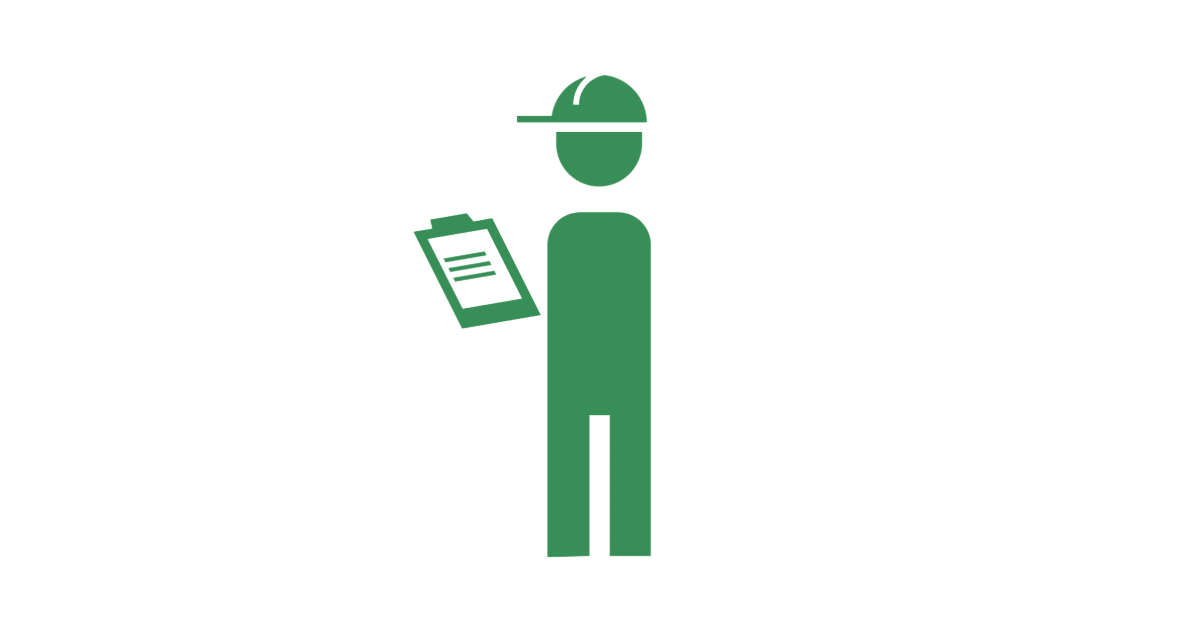 We've written before about the range of energy and building professionals who might use Ecologic Apps to make their jobs easier, including:
energy audtors and building performance assessors, to reduce time taken to capture and analyse results of a site walk-through and prepare reports for customers and regulatory bodies
architects and building designers, to rapidly estimate the performance of various building designs
builders and tradespeople, to provide customers with a business case for specifying high performance building elements and fixtures
real estate agents and property assessors, to showcase the energy efficiency of high performance properties
building product installers and providers, to provide accurate estimates of the bill savings from insulation, windows and other building elements
hvac installers and providers, to accurately specify the size and estimate the differing operating costs of heating and air conditioning systems
solar HW/PV installers and providers, to accurately specify the optimal installed capacity and estimate the bill savings from solar systems
Ecologic Apps are now proud to announce the release of Ecologic Pro, a new tool specifically developed to meet the needs of the building performance industry. We explain about the pro features below – PDF reports, multiple audit tracking, team management and custom branding – and there's information about the overall Ecologic platform in this post.
PDF reports
The key value proposition of Ecologic Pro to professional energy auditors and building performance assessors is the ability to instantly generate and send a full PDF report to the customer before leaving the property. This means they can spend less time messing around with spreadsheets and documents back in the office and focus on engaging customers.
The PDF provides a summary of the range of analyses performed. This includes a detailed breakdown of how energy is used in the property, including how much energy and money each appliance consumes.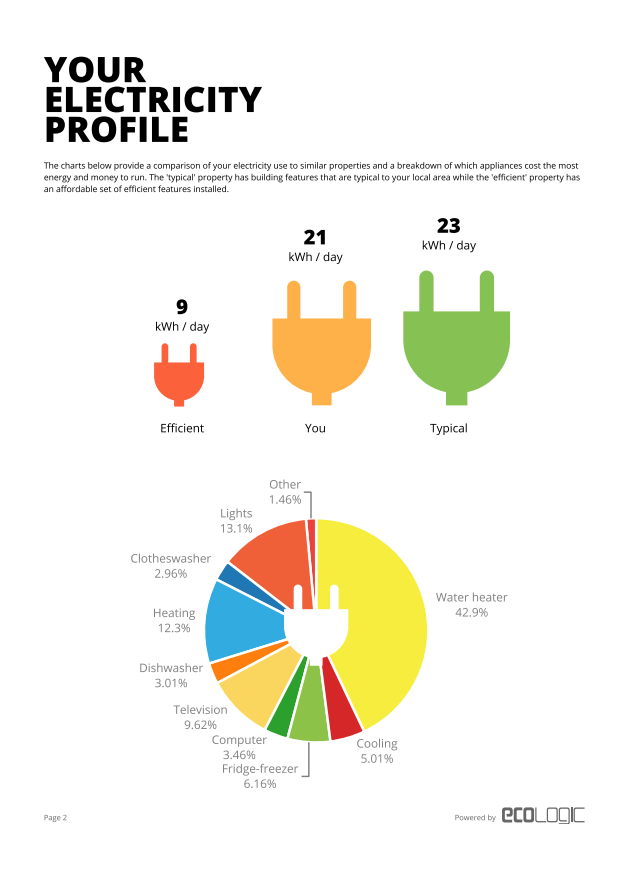 It also provides a summary of the estimated costs, bill savings and payback periods of a wide range of energy saving actions including building improvements, efficient appliances and solar PV.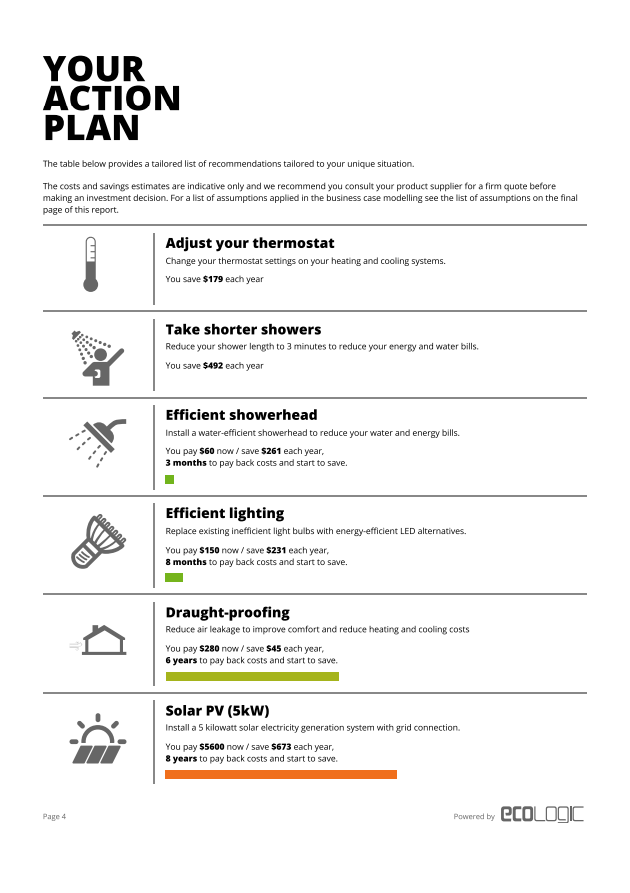 Finally the report gives a guide for each each nominated energy saving action. This includes advice for clients/customers to undertake the action themselves, such as how to test the leakiness of a building or a shower flow rate, and advice for selecting the right product and service supplier.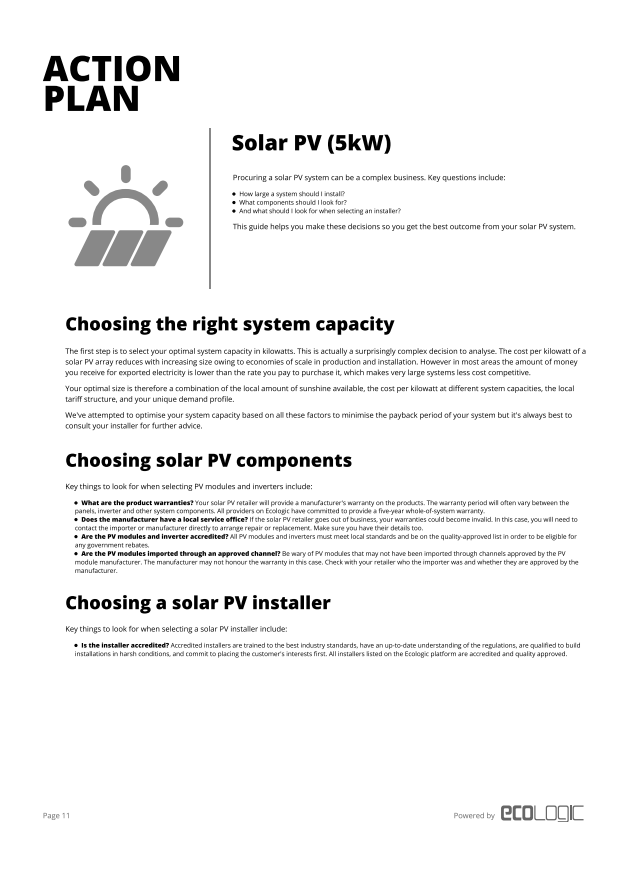 Multiple audit tracking
The best energy auditors and performance assessors provide follow-up support to assist customers with implementing and verifying their savings. Ecologic therefore provides a full record of all audits performed.
To see a full list of all audits performed, simply click the 'list' icon in the dashboard. Links are provided to edit the audit responses in addition to reviewing the various results, or to download a fresh PDF summary for the property. A CSV spreadsheet file can also be downloaded with a full list of details.
Team management
The Ecologic platform offers a range of features to support effective team management.
At the team manager's request, a full list of time stamped audits performed across the organisation is available either through the web-based interface or as a CSV spreadsheet file for offline viewing.
This data can assist managers with tracking how team members are performing in their consultation targets, while offering complete real-time transparency of each audit performed across the organisation.
Custom branding
The Ecologic Pro web and mobile apps, and the output PDF reports have all been designed to be white-labelled with custom branding.
To add your custom branding and logo, simply visit the company profile section in the 'my account' section of the app. You can add a short company profile for inclusion in the PDF report, and upload a company logo to be displayed in the PDF cover and header.
---
Energy auditors and building performance professionals who use Ecologic Pro will be able to slash audit and reporting times while delivering an unprecedented level of analysis to customers. This will free up their time to focus on delivering excellent customer service and value to the customer.
For a free trial of Ecologic Pro contact us at professionals@ecologicapp.com.
As always feel encouraged to reach out to us if you have any questions or suggestions over email, Facebook, Linkedin or Twitter.