Ecologic Apps recently released a new set of guides to assist you with acting on your personalised energy saving plan.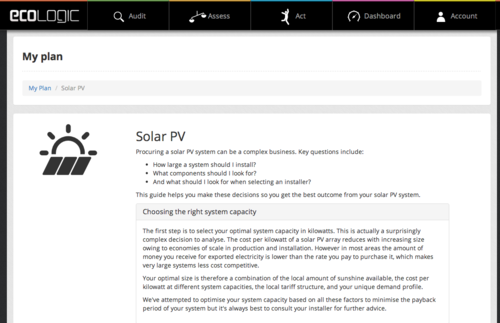 The guides include tips on things you can do yourself in addition to advice for selecting quality product and service suppliers. Key guides already available include:
efficient lighting, including how to select the right light fitting, shape, brightness, temperature and technology
draught-proofing, including a step by step guide for detecting and fixing leaks
insulation, including advice on where to insulate and what type and rating of insulation to use in different climates
solar water heating, including comparisons of the major technologies and configurations
solar PV systems, including advice on how large a system to install and how to select quality components and installers
And many more still to come.
To access your energy saving guides login at www.getecologic.com and click the 'Act' button at the top.
We have a lot more plans for the Act module, including a service to connect you with local product and service suppliers and a list of financing options and rebates to help reduce your upfront costs.
If you are an energy saving product or service supplier you can register your interest for our upcoming energy saving clearinghouse by sending an email to partnerships@ecologicapp.com.