In our previous post, we explained the untapped potential of energy efficiency or 'energy efficiency gap'.
In this post we'll introduce our recently released energy auditing platform and why we think it could be a game-changer.
You begin by logging into the app and answering a targeted set of questions about your building and appliances. Typical questions include how your building is heated and cooled, what sort of water heater is installed and how many fridges you're running.
Instead of overwhelming you with questions, we've gone with a more layered approach. Questions are grouped by priority, with critical questions such as the type of heating system shown prominently, and more detailed questions shown in optional slide-out cards. If you'd like to add more detail about a property feature by, for instance, adjusting the thermostat setting of your heating system, you simply click 'more detail' and the additional questions slide out from below the top-level question.
If you don't want to answer a question that's no problem. We fill any unanswered questions with smart defaults based on your location and prior responses.
Using this system we offer you the flexibility to provide as much or as little detail as you wish - whether it be a quick 2 minute estimate or a comprehensive 30-minute professional-grade audit - while still providing the best possible accuracy.
We also save you the trouble of walking around your building with a measuring tape by asking you to instead draw your building geometry and other features on an aerial photograph. This is achieved by touching the corners of the building to describe the building footprint. Any additional features, such as windows, overshadowing buildings and trees will be specified using a similar process.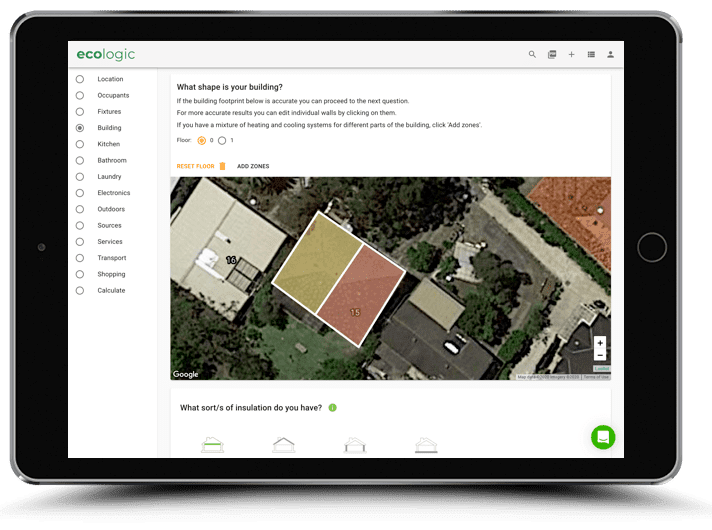 You are then ready to upload your responses to our cloud-based simulation platform.
Here we turn the building features you described earlier into a 3D model of your building. We then use this model to simulate how your building performs throughout the year subject to your local weather. This allows us to estimate when your heating and cooling systems are active, how much electricity can be generated by solar PV systems, and even when the lights are likely to be switched on.
We then re-run the same simulation but this time with a set of changes. For instance, we might add a solar hot water system to your roof, or better insulate your ceiling, or replace your fridge with a more efficient model - in each case estimating the incremental impact on your energy bills, and therefore the likely payback period from those changes.
It's important to stress that these simulations go significantly beyond any self-assessment tools on the market today. Most tools provide indicative costs and payback periods only, which rarely reflect your unique weather, property features or tariff structures. In their place we're applying world-leading building simulation science that until now has only been available with the services of a high-end building services engineer and a big budget.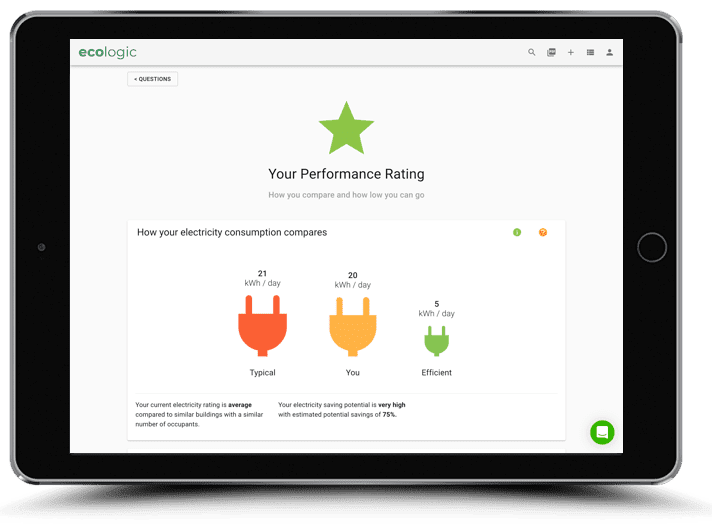 Your results are returned as a set of colourful infographics describing how energy is currently used around your property, including which specific appliances are costing the most energy and money to run and how your bills compare with similar properties.
We also present you with a series of energy saving measures including building improvements, efficient appliances, and solar PV - all prioritised in order of their payback period. This includes an estimate of the cost of each measure together with the annual savings you should expect to receive on your energy bill.
Once you've reviewed the results you can nominate which measures you'd like to carry through to your personalised energy plan.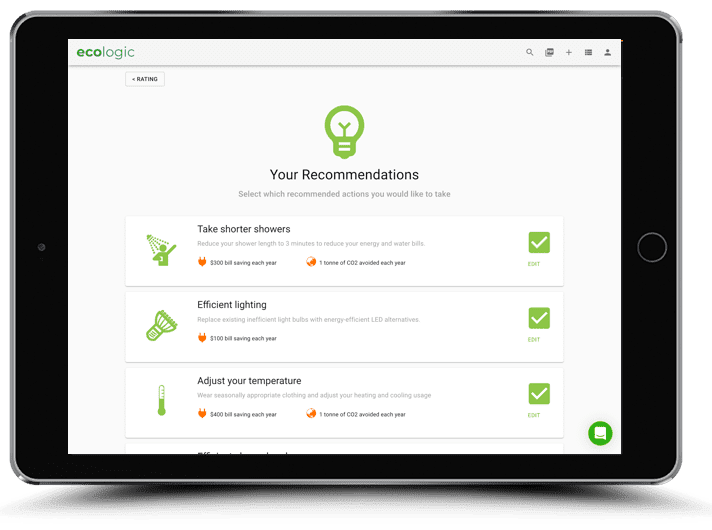 This is where most audit tools stop but we are going a step further.
We'll assist you with making your energy plan happen. For instance, if you'd like to install a solar PV system, we will advise you which size and configuration is likely to work best for you and provide an instant quote of the installation costs for your unique situation. Or, if you'd like to replace your fridge, we will provide a list of fridges alongside their costs, features and energy efficiencies. Or, if you'd like to switch your electricity plan, we will estimate your bills subject to the full range of available tariffs and calculate which plan represents the best value for your unique consumption profile.
With your go ahead, we'll forward all the necessary details to our network of product and service providers so they can promptly act on your decision. For instance, instead of you having to call up your preferred solar installer and repeat your roof height, material and solar specifications, we will forward all the necessary details to them for you so they can dispatch an installer to your property.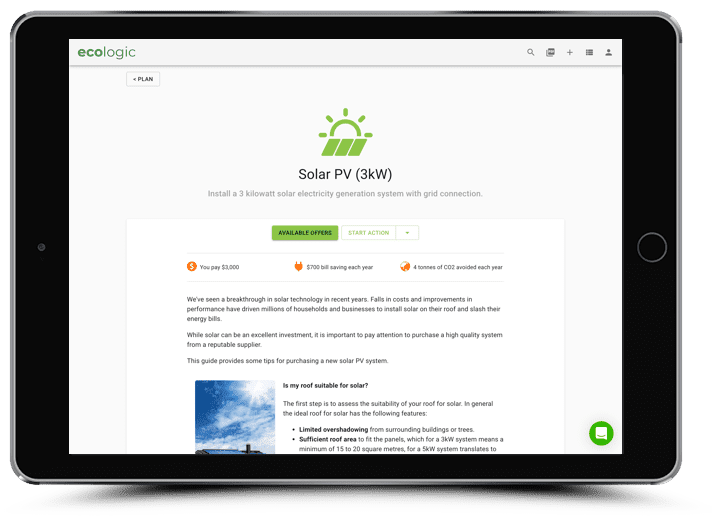 Energy efficiency is a confusing business. There are a wide range of energy saving measures on offer, each performing quite differently in different situations. Also, for each product there are a multitude of product and service providers, making energy efficiency overwhelming for all but the most passionate energy efficiency enthusiast.
We are going to change that by providing two things:
a rigorous and independent comparison of energy saving measures
a trusted clearinghouse for energy saving products and services
In doing so we will offer the information and coordination to catalyse a transformation in how energy is used and generated in buildings around the world.
We've recently released the app for early testing at www.getecologic.com. There is a little green bubble in the bottom right corner for you to suggest new features, vote up other people's suggestions, and (heaven forbid) report bugs. The project is still in its early beta phase and we have quite a few features remaining on our roadmap so we'd love your feedback on where we're going.
You can also connect with us on Facebook, Twitter, or LinkedIn, or just tell us what you think by dropping a comment below.